4. We believe that the first principles and ordinances of the Gospel are: first, Faith in the Lord Jesus Christ; second, Repentance; third, Baptism by immersion for the remission of sins; fourth, Laying on of hands for the gift of the Holy Ghost.
and
"Faith in Christ and repentance through His Atonement are the very foundation of the gospel as taught by The Church of Jesus Christ of Latter-Day Saints."
Faith is a simple yet powerful principle everyone needs to develop. Faith in Jesus Christ in particular being our main source of faith. The typical answer of describing faith is, believing in something you cannot see. Yes I feel like that is a good simple definition of what faith is but there is a lot more to it than just that. Faith is an action word. When we have faith, we have a hope for better things to happen or we have a firm hope that good will come out of whatever happens to us. When we have faith in Jesus Christ, we want to do something about it and we want to more fully follow His commandments. As we develop that foundation of faith, we have a desire to change and better ourselves or in essence, repent.
"
Repentance.
The Greek word of which this is the translation denotes a change of mind, i.e., a fresh view about God, about oneself, and about the world. Since we are born into conditions of mortality, repentance comes to mean a turning of the heart and will to God, and a renunciation of sin to which we are naturally inclined. Without this there can be no progress in the things of the soul's salvation, for all accountable persons are stained by sin, and must be cleansed in order to enter the kingdom of heaven. Repentance is not optional for salvation; it is a commandment of God."- LDS Bible Dictionary. Many people view repentance as a bad thing, but in fact, repentance is a very good thing because we become more happy from repenting. When we repent, we go through a process. The process is simple but can be difficult to follow depending on the degree of sin we are striving to be forgiven for but the ending result brings a feeling of joy, peace and love. We feel a burden being lifted off our shoulders as we repent. The steps to repentance are as follows:
1. We need to recognize our sin was wrong and feel godly sorrow for commiting sin.
2. We confess our sins to God (More serious sins are confessed to church leaders who can help us repent).
3. We ask for forgivness.
4. We correct the problems our actions may have causes, this is called restitution.
5. We forsake the sin and need not do it anymore.
Eventually we will fall short and sin again, thus making repentance a daily process. Daily repentance brings many blessings and makes our lives easier to cope with.
Baptism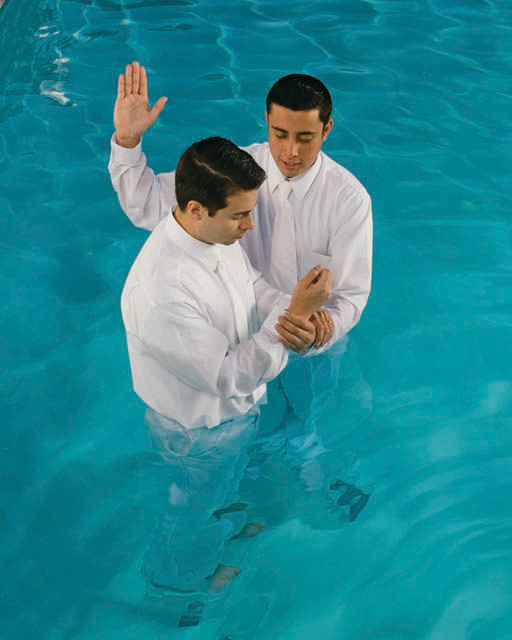 The ordinance of baptism is one of the first steps in returning back to live with our Heavenly Father and His Son Jesus Christ. A Latter-Day Saint Apostle James E. Talmage said that baptism is "the gateway leading into the fold of Christ, the portal to the Church, the established rite of naturalization in the kingdom of God." We believe that baptism done by the proper authority is essential because it is a commandment of God.
Our Lord and Savior Jesus Christ was baptized by John the Baptist. In Matthew 3 the account of Christ's baptism is given. Christ seeks His cousin to baptize Him because John held that priesthood authority to baptize. John didn't feel worthy to baptize Jesus. In verse 14 of Matthew 3 it says this;
"But John forbade him, saying, I have need to be baptized of thee, and comest thou to me?"
Christ goes on to explain why John needs to baptize Him in verses 15-17.
"And Jesus answering said unto him, Suffer it to be so now: for thus it becometh us to fulfill all righteousness. Then he suffered him.
"And Jesus, when he was baptized, went up straightway out of the water: and, lo, the heavens were opened unto him, and he saw the Spirit of God descending like a dove, and lighting upon him:
" And lo a voice from heaven, saying, This is my beloved Son, in whom I am well pleased."
Jesus in all reality did not need to be baptized so His sins could be forgiven because He Himself lived a sinless life. But a Book of Mormon Prophet named Nephi explains why Christ was baptized. He explains that Christ, "showeth unto the children of men that, according to the flesh he humbleth himself before the Father, and witnesseth unto the Father that he would be obedient unto him in keeping his commandments" (2 Nephi 31:7). So Christ showed His Father, and essentially all of us that He was willing to follow all of the commandments, therefore setting the ultimate example for all of us to follow.
We as members of The Church of Jesus Christ of Latter-Day Saints are baptized out of our desire to follow the example Jesus Christ set for us. That is why we believe it is essential to be baptized for the remission of sins.
The Gift of the Holy Ghost
Elder Ballard's book explains the gift of the Holy Ghost as follows: "Soon after one is baptized, worthy men holding priesthood authority place their hands upon the head of the just-baptized individual to confirm him or her a member of The Church of Jesus Christ of Latter-Day Saints and to bestow a very special gift: the gift of the Holy Ghost. While almost every person on this planet will at least occasionally feel the Holy Ghost prompting them toward truth, those who have shown their desire to follow and serve the Lord through baptism and have received the gift of the Holy Ghost by the laying on of hands are
entitled
to the guidance of the Holy Spirit. As they live worthily, they will receive spiritual direction which, if they choose to follow it, will lead them safely home to Heavenly Father.
"The gift of the Holy Ghost intensifies our relationship with that member of the Godhead. In a way, it's like living next door to the firehouse. Although everyone is entitled to fire department services, the safest person in town is the one who lives next door to the fire station. And that's what the gift of the Holy Ghost does-it makes Him a part of our lives. It intorduces the third member of the Godhead into our hearts and souls and puts Him on duty in our lives-a tremendous advantage, to be sure, but only as long as we're willing to pay attention to His whisperings and promptings"
I know that these first principles and ordinances of the Gospel are what will help us live a better, more happy filled life. I know they are true principles and the same principles and ordinances that govern the Chuch. These may be simple steps, but their simplicity has great power behind them, even the power to lead us to exaltation.